Year 1 - ZooLab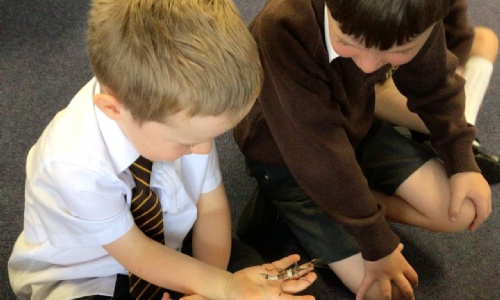 Today, Year 1 were learning about different animals and getting the chance to interact with them.
The ZooLab team brought along a range of creatures, including a snail, frog, gerbil, snake, stick insect and even a scorpion. The children were initially hesitant about touching the animals, but with the encouragement and guidance of the ZooLab team, they soon overcame their fear and began to hold and stroke the creatures. Some of the children even volunteered to stroke the snake and have a stick insect gently placed on their hands.
The ZooLab team provided lots of interesting facts about each animal, such as where they are found, what they eat, and how to handle them safely. The children were engrossed in these facts and eagerly asked lots of questions. It was clear that they were genuinely interested in learning more about the animals, their classification and their habitats.
Overall, the ZooLab visit was a big success. The children not only had a great time, but they also learnt a lot about all the different animals.