English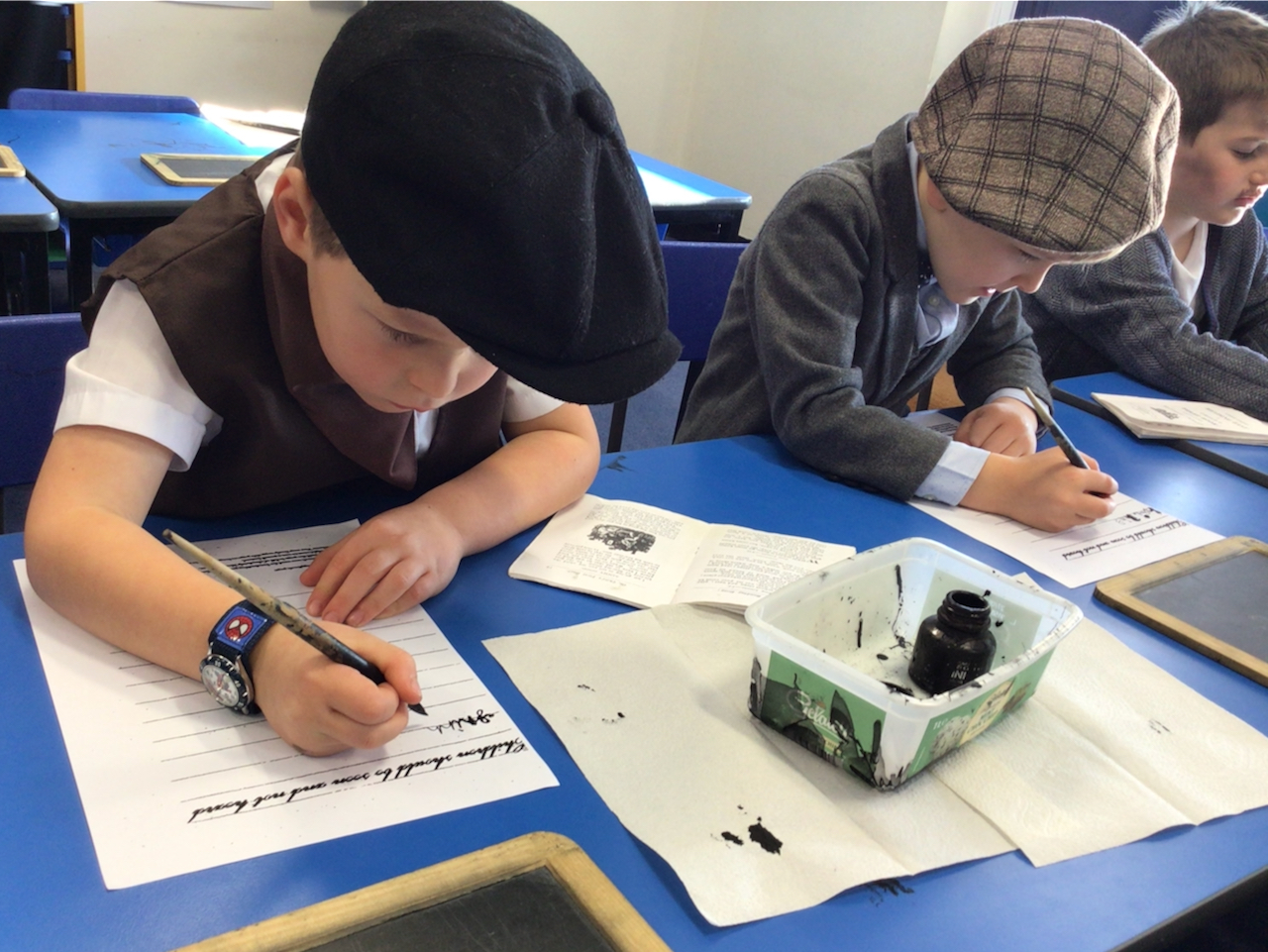 Writing
Curriculum Intent
At St Mary's we follow the National Curriculum expectations for the teaching of Writing. The teaching of writing is closely linked to reading and pupils are taught to draw upon their range of reading experiences and use them as models for writing. Talk for Writing is used as a key strategy in the teaching of Writing, where book talk and language development form key components to the teaching sequence. Planning, interaction, collaboration, mutual support and feedback are integral in our teaching of writing at St Mary's, to enable pupils to understand and engage in writing as a process. An extensive range of purposes, forms and audiences for writing are incorporated into our long term planning, so that pupils understand the choices facing a writer and how to vary writing outcomes depending on audience and purpose. The teacher plays a crucial role in the development of writing through modelling the writing process and teaching at the point of writing (e.g. guided writing).
Our writing curriculum enables pupils to:
Know, understand, and be able to write in a range of genres and text types

To write for real or imagined purposes

Plan, draft, discuss, revise and edit their own writing, and develop into reflective writers

Know that writing is different from speaking

Write clearly, accurately and coherently

To recognise that writing should have a clear purpose and audience

To adapt their language and style in and for a range of contexts, purposes and audiences

Develop understanding that writing is both essential to thinking, investigating, organising and learning, and enjoyable in its own right

Acquire a wide vocabulary, an understanding of grammar and knowledge of linguistic conventions for reading, writing and spoken language

Make connections between pupils' reading and writing so that they have clear models for writing

Through reading and writing, develop their powers of imagination, inventiveness and critical awareness

Have fluent and legible handwriting

Use punctuation correctly
Curriculum Implementation Y1 – Y6
The Talk for writing system follows this general structure: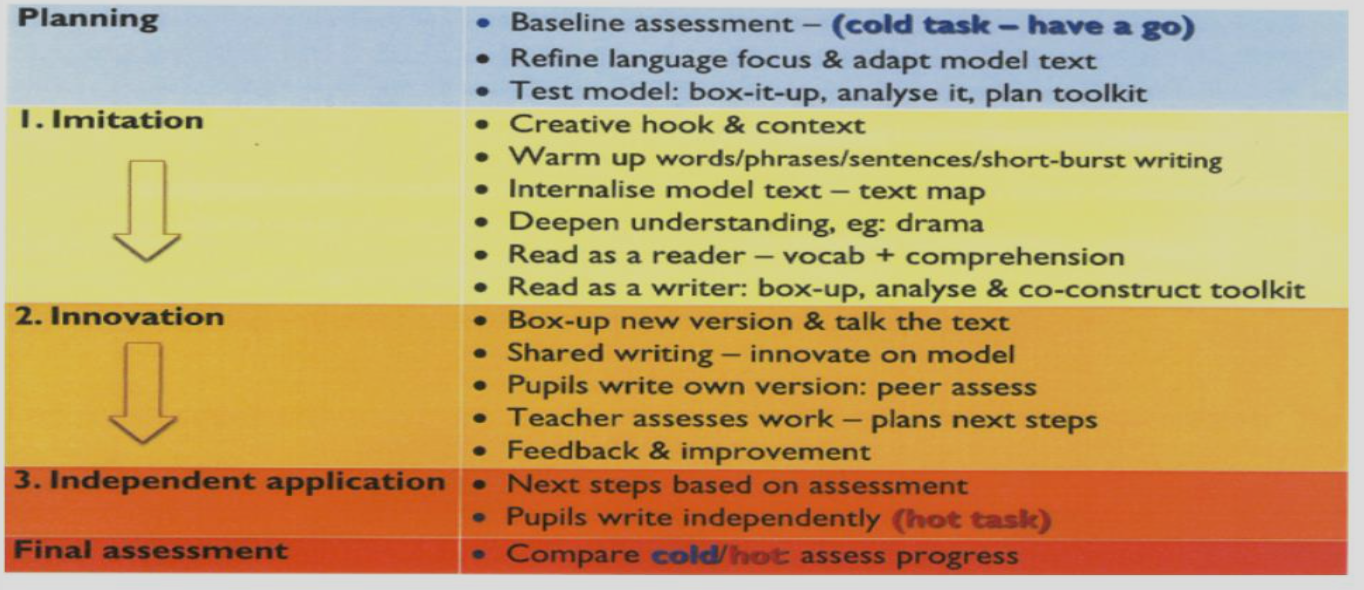 Handwriting
Neat, fluent handwriting allows any individual to work more quickly and productively. In order to achieve this, children follow a handwriting scheme – Treasure House Handwriting. Treasure House Handwriting is a comprehensive programme designed to support children through the stages of learning a clear, fluent, legible and fast style of joined writing from EYFS to Y6.
The programme overview for Treasure House Handwriting can be found here.
Treasure House Handwriting Overview
Grammar
A Guide to New Curriculum Grammar Terminology
Grammar skills and knowledge are taught through English lessons as part of the overall writing process. At St Mary and All Saints, we follow the Pie Corbett Grammar Progression which can be found here.
Pie Corbett Grammar Progression
Speaking and Listening
These skills are vital in all learning and social situations. We encourage the children to listen carefully to others and to speak clearly and confidently in discussions. Children explore, develop and sustain ideas through talk. Children are offered many opportunities for taking part in a variety of presentations and productions within St
Mary's, at the local church and in the wider community to build their confidence, enjoyment and mastery of language.
We believe that children learn best when:
Oracy underpins learning in all subjects. There is a combination of carefully planned spoken, practical and written.

They are encouraged to be confident communicators in all lessons, assemblies and community events.

The skills needed for successful group discussion, formal debate, and speech making are explicitly taught throughout the school. Oracy teaching underpins all teaching and learning in the Early Years, closely following the EYFS Framework.

Explicit vocabulary teaching is included in all subjects, sentence stems and the use of colourful semantics word walls. We know that strong language knowledge and skills form the foundation of learning, starting in our EYFS provision.

The learning environment ensures Communication Friendly Classrooms.
EYFS
At St Mary's we support the development of linking sounds to letters and understanding that from this we can read and write. It is vital that children understand that print carries meaning and that they are able to engage with this essential element of communication and the high importance it holds. We actively promote the importance of reading and writing, which is done through stories, songs, poems, mark making and writing in a variety of different contexts and for different purposes using a wide range of media.
Speaking and Listening
The development of children's spoken language underpins all seven areas of learning and development. Children's back-and-forth interactions from an early age form the foundations for language and cognitive development. The number and quality of the conversations they have with adults and peers throughout the day in a language rich environment is crucial. By commenting on what children are interested in or doing, and echoing back what they say with new vocabulary added, practitioners will build
children's language effectively. Reading frequently to children, and engaging them actively in stories, non-fiction, rhymes and poems, and then providing them with extensive opportunities to use and embed new words in a range of contexts, will give children the opportunity to thrive. Through conversation, storytelling and role play, where children share their ideas with support and modelling from their teacher, and sensitive questioning that invites them to elaborate, children become comfortable using a rich range of vocabulary and language structures.
Reception English Long Term Plan 22-23
Year 1 English Long Term Plan 22-23
Year 2 English Long Term Plan 22-23
Year 3 English Long Term Plan 22-23
Year 4 English Long Term Plan 22-23
Year 5 English Long Term Plan 22-23
Year 6 English Long Term Plan 22-23
Reading
We follow the National Curriculum expectations for the teaching of Reading. In KS1 and Reception, the teaching of reading can be broken down into three key areas:
Teaching children to decode through systematic phonics teaching, guided reading, regular reading aloud and our decodable phonics books.
Enabling children to 'become readers' through maximising engagement and enjoyment in reading, story/book sharing, the use of high quality texts across the curriculum and library time.
Comprehension and assessment through Guided comprehension, use of written assessments and National benchmarking tools. Our formal assessment of comprehension starts from the Summer term in Year 1. Prior to this, comprehension is assessed through guided reading sessions.
More detailed information about the teaching of Phonics can be found on the Phonics page of this website.
Click below to find out about our Home Reading offer for Early Years and KS1
SMAS Reading Schemes and Home Reading EYFS KS1
Click below to view the progression document for Coloured Book Band Books
Coloured Book Band Progression
In KS2, the teaching of reading can also be broken down into three key areas:
An emphasis on pupils' enjoyment and understanding of language and grammatical structures, which supports fluency, comprehension and develops their facility as writers.
Engendering a love of reading in the children in which they value texts as a window to the world beyond their immediate experiences and afford them the understanding that reading is a means of learning.
Comprehension and assessment through Guided comprehension, use of written assessments and National benchmarking tools. We use the NTS Assessments and prior SATs papers to assess pupils in KS2
Reading at home is also promoted and valued as a key component of academic, social and emotional development when the children move into KS2.
Click below to find out about our Home Reading offer for KS2
SMAS Home Reading Organisation KS2
Reading in English Lessons
At St Mary's, we use Talk for Writing as a key teaching strategy. This means that children experience whole texts in every English unit. There is a key focus on the teaching of key reading objectives across very unit, in which children are immersed in the language of a text and are given a range of opportunities to respond and develop their reading skills.
Guided Reading
Children in every year group take part in guided reading sessions.
In EYFS and KS1, the children have the opportunity to share a book in a small group, giving time for the children to read and discuss the book together with their class teacher. The children also have opportunities to read a text that is often a little more challenging than one they would read alone or at home, as the teacher is able to scaffold their learning and help them to develop reading skills of a higher standard.
In KS2, children continue to have weekly guided reading sessions with their teacher. This builds on what they have learnt in KS1 and further develops their skills in responding to reading and approaching comprehension style questions. There is however a more varied approach, depending on the needs of the pupils and their next steps in learning. In Years 3 and 4, Guided Reading is predominantly taught in small groups, as in KS1, however as the children move into Years 5 and 6, a whole class approach is often used to teach key comprehension skills.
Library
The Library is an essential learning resource for research skills and to support and extend classroom topics. Our library provides books on National Curriculum topics as well as catering for a variety of interests. Books are available for all reading abilities, and we have carefully curated our library stock to ensure the children have the opportunity to experience a range of authors, genres and areas of interest. Children visit the library once a week and are encouraged to choose a book to take home.
Reading for Pleasure at SMAS – Reading Spines
It is important to us that children are exposed to a rich and diverse diet of reading. We have created a list of 12 books per year group that we encourage the pupils to read by the end of that academic year, separate to the texts they read and study at school. We hope this will inspire a love of reading, and encourage children to try a range of new authors.
Here is the children's information PowerPoint about our reading spines.
Here is the list of books per year group.